Jobs
Eugene - Eugene Ford

Eugene, OR, USA

Salary

Full Time

Company sponsored health, dental and vision insurance, flex spending account, 401K, company paid life insurance, and paid time off.
---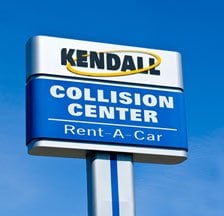 Kendall Collision Center of Eugene is looking for to hire a Shipping and Receiving Clerk immediately.
This position will be responsible for receiving and storing arriving freight, stocking in shipments, preparing parts for shipment while following shipping regulations, maintaining shipping records and delivering wholesale parts throughout town to multiple clients.
Ideal candidate will have basic knowledge of automotive parts, experience in high volume shipping and receiving and the ability to drive a wide range of vehicles including manual transmissions. Computer literacy is required. A drivers license with an acceptable driving record for company insurance is required. Position will be Monday-Friday 8:00am-5:00pm.
Kendall Auto Group offers Health, Vision and Dental Benefits; company sponsored Life Insurance, paid sick leave and vacation and a 401K plan with company contributions.
Physical Requirements:
Carrying: frequently, up to 20 pounds for up to 200 feet; occasionally, up to 50 pounds for up to 20 feet

Lifting: frequently, up 20 pounds; occasionally, up to 50 pounds

Bending and twisting: occasionally, to access some storage areas

Squatting/kneeling: occasionally, on hard and soft surfaces

Climbing: occasionally, ladders to six feet
This position has been closed and is no longer available.
THIS POSITION HAS BEEN CLOSED! PLEASE CHOOSE ONE OF THE OPTIONS BELOW:
Follow Us On Social Media